Returning the red-billed chough to Jersey
Choughs are believed to have become extinct in Jersey over a century ago due to the loss of clifftop farmland, which led to the increase of bracken-covered clifftops instead of hedge-lined grassy fields.
The bracken grows quickly and makes it nearly impossible for coastal birds and other species to feed. As part of the Birds On The Edge project, we have been working to reintroduce the red-billed chough to Jersey since 2010. The island's wild population now stands at just over 40 birds.
2013
first choughs released
2015
first wild-hatched chough
40
wild choughs in Jersey
Durrell has returned red-billed choughs to Jersey after over 100 years of extinction
Our conservation work
What we're doing to help protect red-billed choughs
Birds On The Edge
Along with our partners, the National Trust for Jersey and the States of Jersey Department of Environment, the Birds On The Edge project works to restore and manage areas of coastal habitat across the island, breed and then release red-billed choughs, and closely monitor the reintroduced birds.
Choughs are the flagship bird of the project, and we hope that with long-term continuous management of the island, we will see more than just choughs returning to Jersey. 
Find out more about the reintroduction of the red-billed chough on the Birds On The Edge website.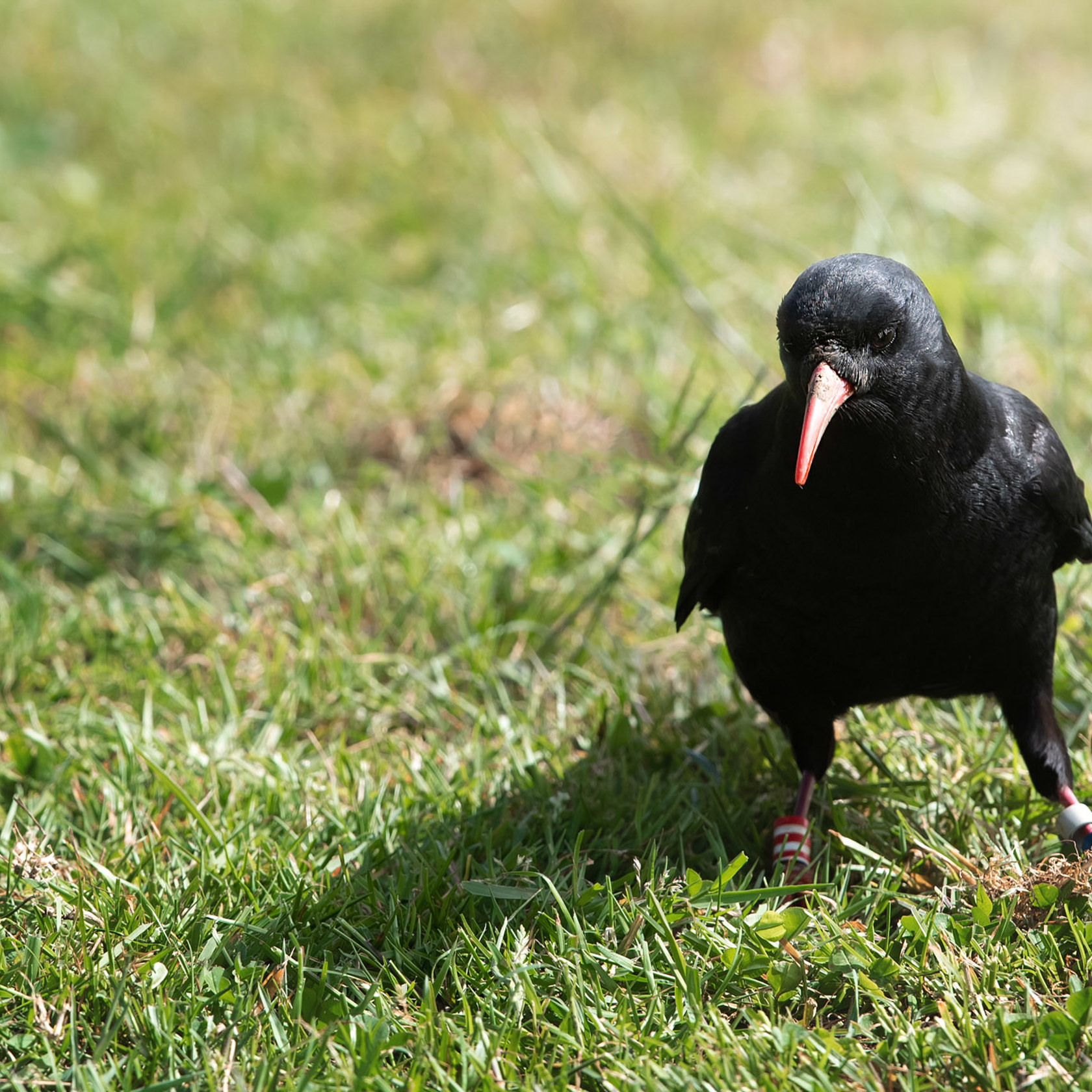 Meet our charismatic red-billed choughs with their striking red beaks and feet!
At Jersey Zoo, you can find the choughs in their aviary on the bank of the stream leading to the flamingo valley. You will often hear their loud 'chee-ow' calls before you see them! During breeding season you may see them collecting twigs to create their nests. Some of the wild choughs in Jersey have been seen collecting sheep's wool from farms to line their nests. Be sure to look out for the flock on Jersey's northern coasts!
Latest news about the red-billed chough
Durrell's global conservation projects
Learn more about the species we're helping around the world