Durrell Wildlife Camp sustained significant damage during storm Ciarán that requires a thorough assessment and repair work. We are temporarily closing bookings for the camp until the repairs have been carried out and we can guarantee the safety and comfort of our guests and maintain our high standards of service.
We apologise for any inconvenience. If you currently have a booking with us, please get in touch with our reservation team to discuss alternative arrangements reservations@durrell.org 
Stay in stunning 5-star surroundings, then wake up and enjoy your morning coffee to the sounds of lemurs and flamingos!
At Durrell Wildlife Camp, you've got some of the world's rarest animals right on your doorstep, and you can't miss the site's resident red squirrels! Campers receive free entry to Jersey Zoo and may come and go as they please at any time during opening hours.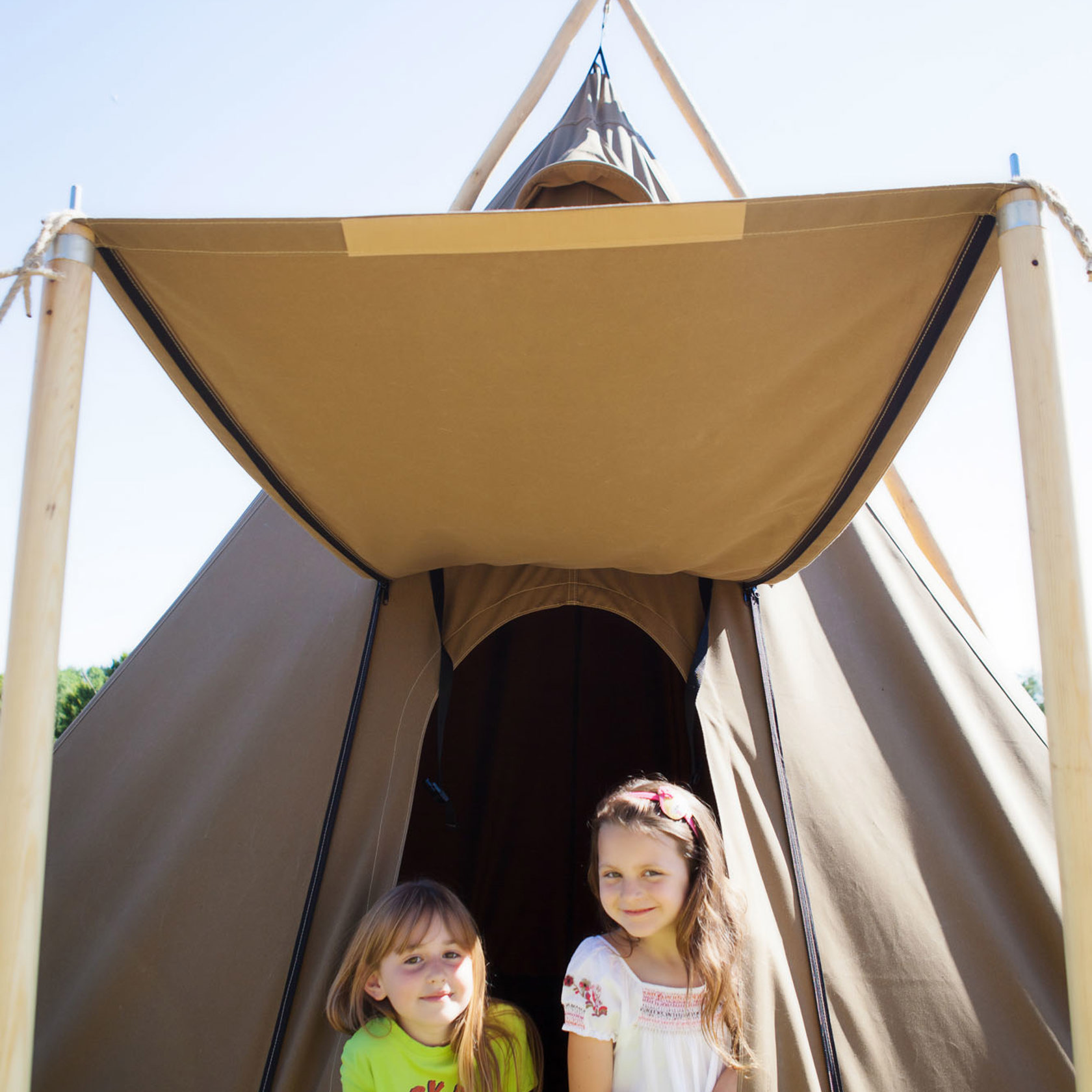 Our glamping pods
Each pod sleeps up to two adults and two children, with an additional tipi available to book for two children. Our cosy pods come equipped with their own wood-burning stoves and one free bag of logs.
Next to every pod is its own kitchen, dedicated shower and toilet... no queuing or sharing facilities at Durrell Wildlife Camp! Each kitchen has a two-ring stove and all the cookware, crockery and cutlery required to 'eat in'.
"Luxurious, relaxing, extremely well equipped and altogether a marvellous experience!"
Juliana1, TripAdvisor
| | | |
| --- | --- | --- |
| Length of stay | Price per pod |   |
| 3 nights | From £570 | |
| 4 nights | From £720 | |
| 7 nights | From £1,260 | |
Prices displayed are for low season periods only, and for a standard pod (2 adults, 2 children). Tipis available for £40 per night (2 children). Cots and highchairs available at a small charge. See full terms & conditions.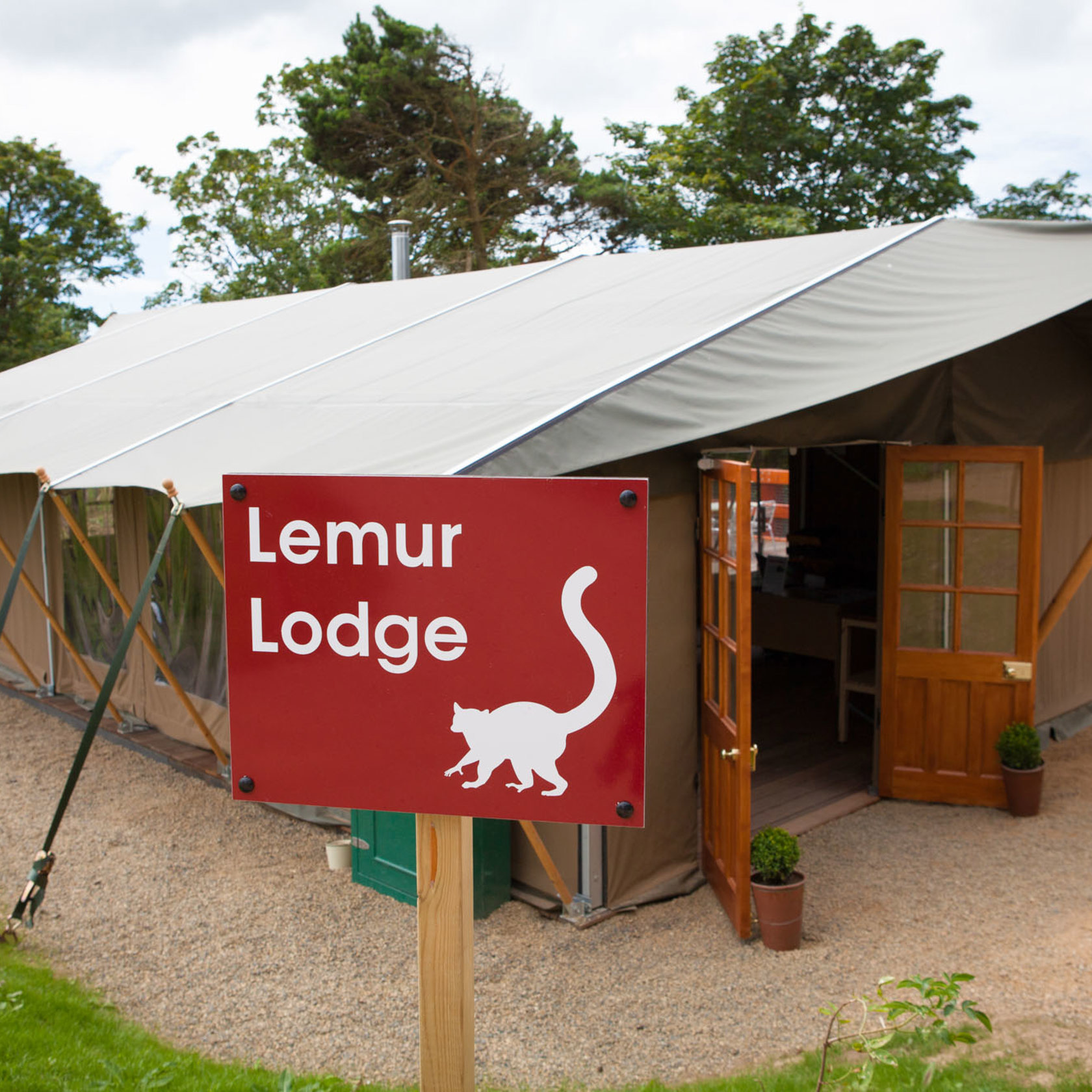 Chill out at Lemur Lodge
Be just as social as you please in our communal area, Lemur Lodge. Here you can meet other guests or chill out and escape everyday life surrounded by the sounds of the zoo's wonderful animals.
Just because you're enjoying a retreat in nature, doesn't mean you can't stay in touch with the world! Free WiFi is available in Lemur Lodge and each pod.
Frequently asked questions
What exactly is a 'pod' and how much space will I have?
Our 'pods' are technically 'geodesic domes' – accommodation that blurs the lines between camping and luxury chalets. Each is made from an aluminium frame, and covered with a heavyweight, British-made, insulated canvas 'skin'.
Each pod is set on a large wooden platform with landscaping and positioning of the pods providing you an area and privacy. As a result, you won't find yourself looking over other campers. Likewise, your own little 'habitat' will be secluded and exclusive!
What is included in the pod?
Each pod has a wood burner for cosy warmth, free unlimited WiFi, two ring hobs in the kitchen, toaster, cool box (ice-packs available), crockery and cutlery, bedding and a bath towel per person, and mains 240v electricity supply for running and charging your mobile devices.
On your private deck, there is a separate pod containing a fully flushing toilet and hot shower, a fully equipped kitchen with all cutlery, crockery and cooking utensils, two sun loungers and al fresco dining furniture, and an extra 'tipi' is available (on booking) for a limited number of pods for an additional two children.
What is included in my stay?
During your stay, you have free unlimited access to Jersey Zoo during opening hours, use of the communal Lemur Lodge and BBQ areas, free WiFi, bedding and a bath towel per person, ice-packs for your cool box, one free bag of logs for your wood-burning stove, and a truly one-of-a-kind ambience!
What if it rains, snows, blows a gale?
Jersey is famous for its favourable climate and we enjoy more sunshine than many other parts of the UK. However, should it rain during your stay, be assured that our pods are designed to be weatherproof. Each pod is raised on a wooden decking that allows runoff water to be drained away… no wet groundsheets when you camp with us!
The camp is situated in a wooded copse, offering natural shelter from the elements. Here at Jersey Zoo, we have been providing natural shelter for animals from all over the world… rest easy; we have you covered!
Each pod has its own wood-burning stove for cosy heat, and there are ventilation points should the glorious Jersey summer become a scorcher!
One bag of logs for the wood-burning stove, plus a starter kit, are included in the package. Should you require more, the wildlife camp rangers have further bags available for purchase. Stoves are maintained and safety checked, and are cleaned thoroughly between each stay.
How many people does each pod sleep?
Each pod will sleep two adults and two children. Cots are available on request. Additionally, if there are more than two children in your group, you can hire a tipi – a wigwam style mini-pod that can sleep an extra two children.
The tipi's entrance is separate from the main pod but stands on the same plot, so your little campers can enjoy some safe independence.
Quite how you decide who gets to have the tipi adventure, we'll leave to you!
How secure are belongings? Is there a safe/locker?
Jersey, on the whole, enjoys a very low crime rate. However, we suggest that you exercise reasonable caution with your belongings, for your own peace of mind.
Are there showers, washrooms and toilets nearby?
Actually, we can do even better; next to every sleeping pod, you'll find your very own private flushing toilet and shower.
What exactly are the 'cooking facilities' provided?
Each pod has a two-ring electric stove, fully integrated. We also equip each pod with cookware, cutlery, crockery and cooking utensils. Washing up liquid and cleaning supplies are provided.
There is an icebox in each pod, for keeping food cold; it's friendlier to the environment and less noisy than a refrigerator.
There is a large communal barbecue that serves the campsite at Lemur Lodge.
There are two cafés to choose from at Jersey Zoo – Cafe Firefly in the visitor centre and Café Dodo in the heart of the zoo. Both have exterior terraces with stunning views, and each has its own separate, fantastic menu for breakfast and lunch options; so cooking can be a choice, not a necessity!
It says 'free unlimited access to Jersey Zoo'… does this mean we can go in at any time?
Not exactly; you will be able to come and go as you please during zoo opening times, including events.
Is there somewhere to charge my laptop/iPad/ phone/Camera?
Each pod has two AC240v electricity outlets, so you shouldn't need to fight over who's plugged in!
Is there a TV in the pod?
Sorry, the pods don't have televisions. As lovely and cosy as our pods are, we want you to enjoy the sights and activities that our zoo and Jersey have to offer. This is getting back to nature, just with a helping of luxury!
Is there laundry facilities?
The camp has no dedicated laundry facilities, but the nearby Durrell Wildlife Hostel has laundry facilities that you could use if you desperately needed to wash something during your stay.
What is your cancellation policy?
Full payment is required to confirm your booking. Should you cancel your booking 12 weeks or more prior to your stay, we will refund the booking, less the cost of the first night. Should you cancel within 12 weeks of your arrival date, no refund will be made.
I am mobility impaired, can I still stay at Durrell Wildlife Camp?
Yes, we'd be delighted to have you stay. We have two disabled access pods, and these are subject to availability at the time of booking.
The shower room and toilet for both of our disabled access pods are fully equipped with handrails and ramps – although should you require a hoist, we ask that you request one when making your booking enquiry. This way we can be sure to have everything ready for your stay.
Once you are here, the communal facilities and the zoo itself are all designed to include everyone, though there are some relatively steep hills in the zoo itself. Our friendly members of staff will be happy to assist you should you need them – we don't want any of our guests to miss a thing whilst at Durrell Wildlife Camp!
"This was truly one of the best holidays we have ever enjoyed. Glamping at its very best."
Wendy C, TripAdvisor
Discover more about Jersey Zoo