Young tortoises to take over Jersey's shop windows next summer
13
th
July 2022 marked the official launch of the Creative Learning programme that is a key component of next year's Tortoise Takeover sculpture trail.
Over 50 representatives from the island's schools and community groups gathered at Jersey Zoo to hear how young people can get involved in next summer's biggest art event. Alongside the giant tortoise sculpture that was revealed last month at Government House, there will be a complimentary 'shop window' trail of smaller tortoises that will celebrate the creativity of Jersey's young people and community groups. 
Fiona Marchant, Conservation Learning Manager at Jersey Zoo, explained, "We want Tortoise Takeover to bring together schools, colleges, nurseries and community groups to create a wild and whimsical 'creep' of young tortoises. We hope to see innovative and imaginative designs that showcase the creative talent of every part of our community. We want to make this trail as inclusive and accessible as possible."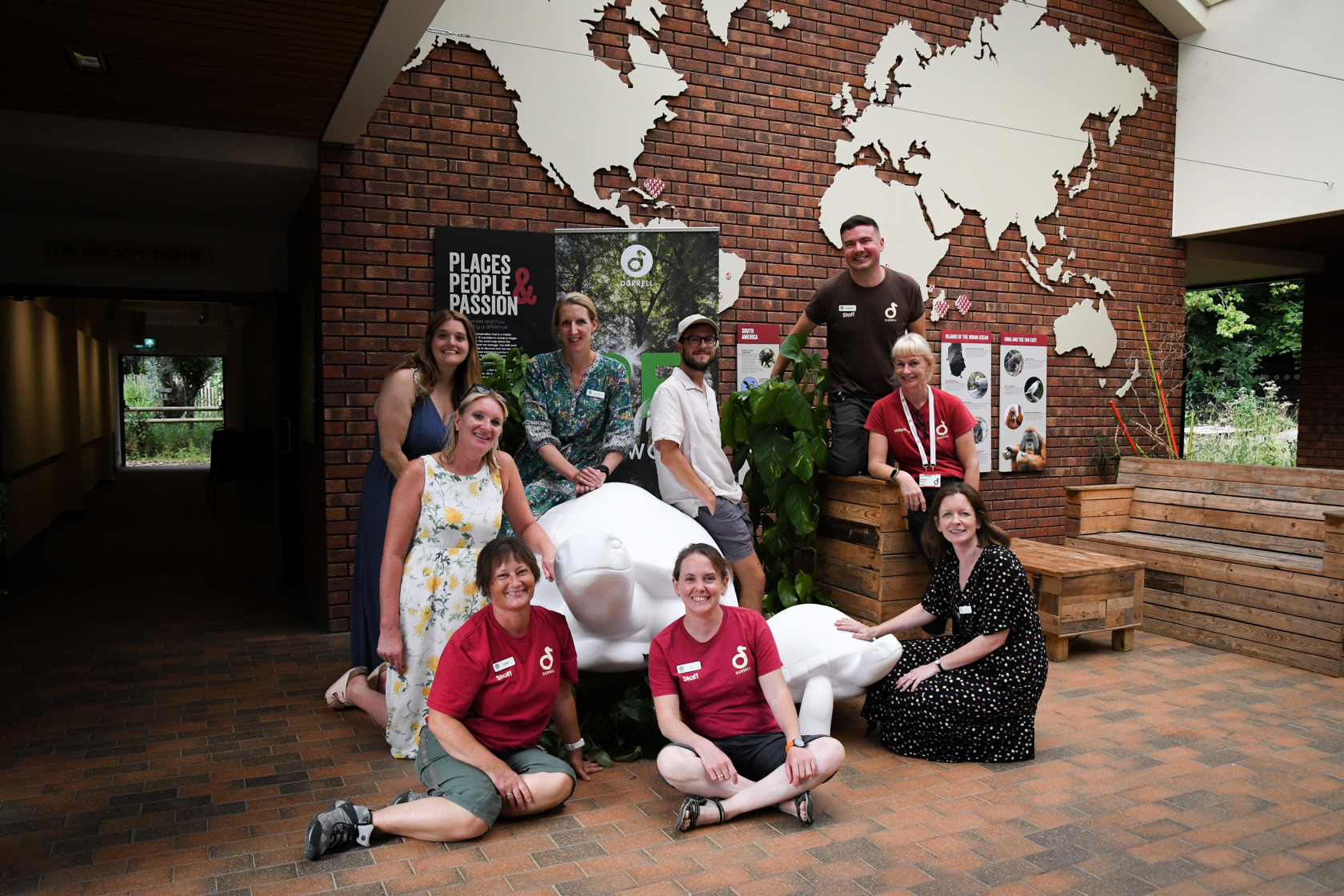 The Tortoise Takeover team
Durrell worked with the Wild in Art team to design this exclusive new tortoise sculpture, as an ambassador for all the work that Durrell undertakes with reptiles across the globe. Tortoises are also much-loved creatures that are woven into storytelling across the globe from Aesop's fable "The Hare and the Tortoise" to Roald Dahl's Esio Trot. 
The Tortoise Takeover team at Durrell is hoping that every school and community group on the island will sign up to take part, committing to raise funds for Durrell and embrace the connection between art and conservation by making this core to their learning and fundraising activities in 2023. 
Ben Reed, Head of Creative Development at Wild in Art, said, "Creativity plays a vital role in education, and we hope that the Tortoise Takeover Creative Learning Programme will inspire young people to become interested in conservation and art. It will be a great opportunity for them to work creatively and showcase their achievements." 
The young tortoises will go on display in shop windows and other indoor locations across Jersey a few days ahead of the giant tortoise trail. After the trail, the young tortoises first join the giant tortoise sculptures at the zoo for a farewell weekend before returning home to live with their adopted schools and community groups as a lasting legacy.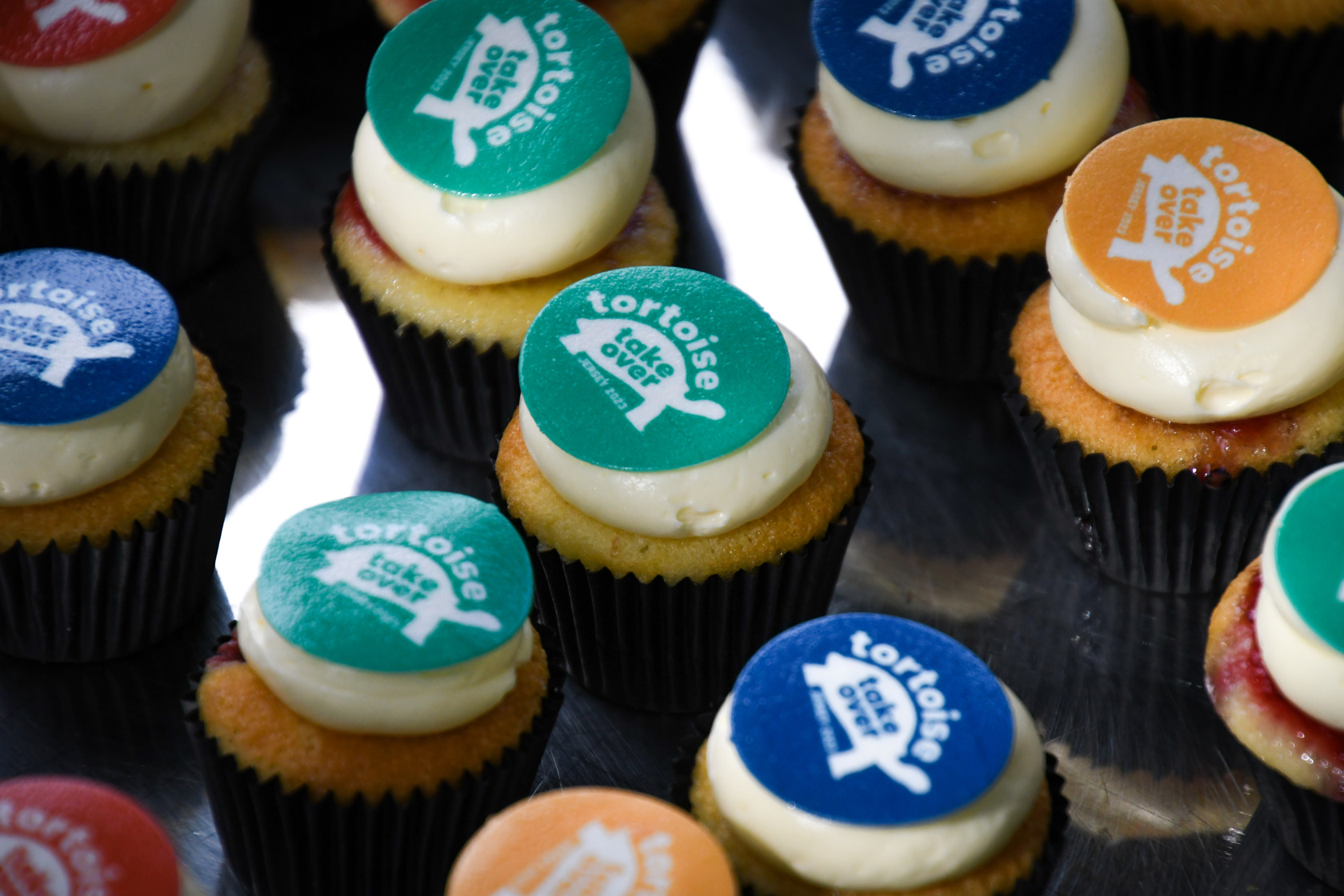 Durrell would like to thank our Education Partner, RBC, and our Community Partner, BDO & C5, for their generous support, which enables young people to get involved in this exciting and inspiring project. 
Gail McCourt, RBC, said, "At RBC, supporting young people and youth mental health is at the heart of our culture. The team have been working with Durrell through raising funds to enable the Future Conservationists Programme for two years and we are delighted to take on the role as Education Partner to Durrell's Wild in Art trail next year. We truly hope that our support will encourage and inspire more young people to spend time in nature, learning how precious wildlife is to our natural ecosystem and we can't wait to see the Tortoise Takeover in action."
Representatives from Community Partner BDO & C5 and Education Partner RBC
Jon Kandiah, Group Chief Operating Officer at BDO & C5, said, "C5, part of the BDO Group in Jersey, are proud to be the Community Partner for the Tortoise Takeover initiative. Durrell have an incredible reputation for the work they do in conservation as well as within the community, and we look forward to working together with them, community groups and schools, and the people within our own organisation, on this exciting project. We know the Tortoise Takeover will be another successful campaign for Durrell, getting people across Jersey excited about conservation while also raising funds for an important cause." 
The Tortoise Takeover Creative Learning Programme invites all schools and community groups in Jersey to take part. Each participating school or group will receive a blank sculpture accompanied by a curriculum-linked learning resource pack. In addition to this, you can expect inspirational events and community engagement opportunities that will be available throughout the trail. 
Email learning@durrell.org to find out more. 
Businesses of all sizes can still get involved in the trail by sponsoring a giant sculpture as well as a young tortoise sculpture for a school or community group. To find out more and contact the team at Durrell, please visit www.durrell.org/tortoise-takeover