World's rarest duck returns home
18 October 2023
The team at Durrell Wildlife Conservation Trust are delighted to announce that the Madagascar pochard, thought to be the world's rarest duck, has returned to their ancestral home on Lake Alaotra in Madagascar, where the last individual was seen over 30 years ago. 
This is a huge milestone for the Madagascar pochard, which is known locally as Fotsimaso, as it was previously thought to be extinct for 15 years, before a tiny population was found clinging to survival on a remote lake in 2006.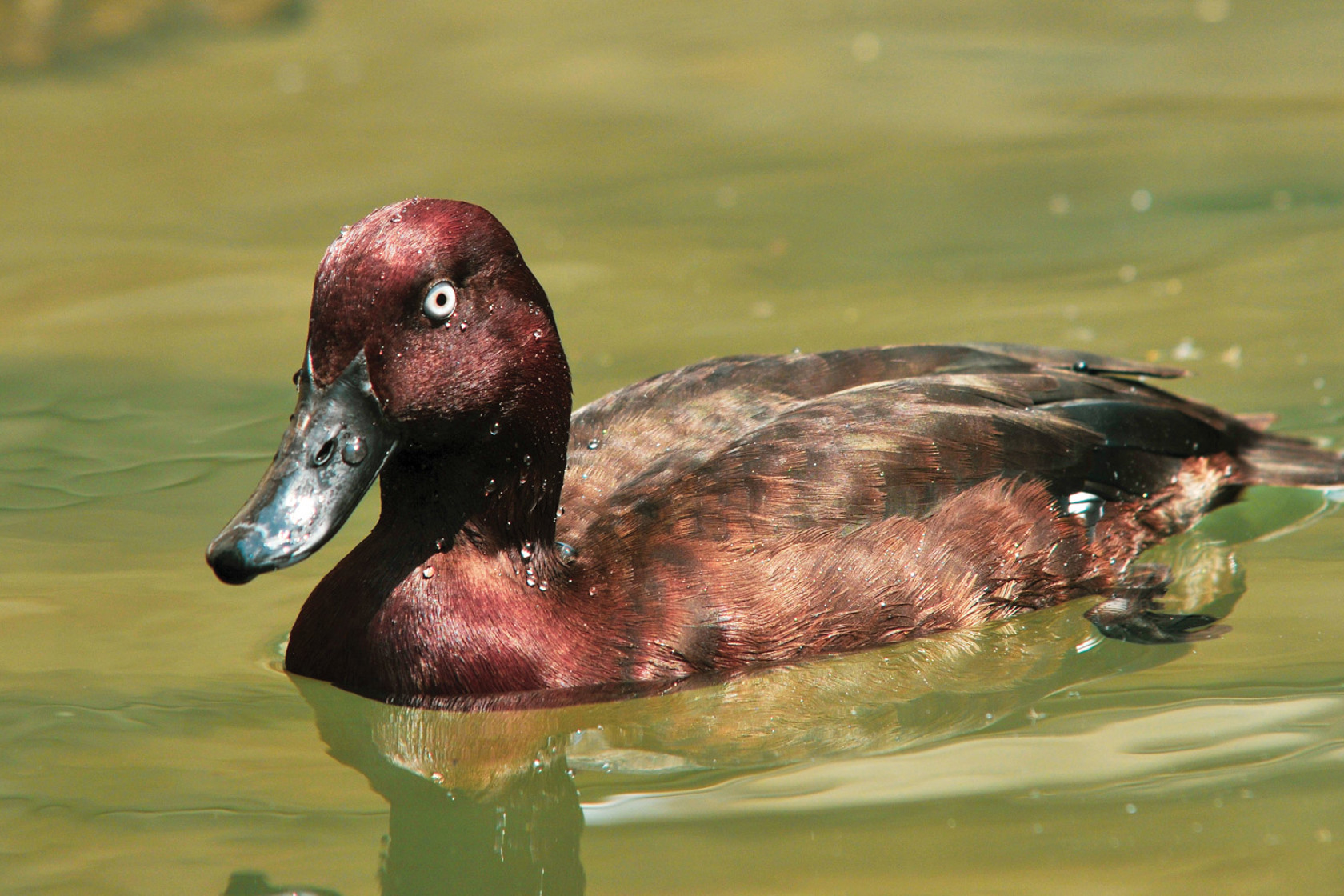 Earlier this year, the team at Durrell, who have been working on a captive breeding and release programme with the ducks since 2009, discovered that these rare birds had travelled south from their reintroduction site in Lake Sofia to their historical home in Lake Alaotra, over 300km away. Due to human activity, the population at Lake Alaotra had previously declined, with the last individual seen there in 1991. 
So far, there have been four solitary females, and one couple (a male and a female) found at the lake. There are hopes that these ducks will now settle, but it is currently unknown if and how they will find food, reproduce, or if they will return to Lake Sofia. For now, the Durrell team are monitoring them to understand their habitat use and behaviour in their "new" environment, which is not easy in such a big lake, so every bit of information the patrollers collect is very precious. 
Through Durrell's successful conservation programme, which was established in partnership with the Wildfowl & Wetlands Trust (WWT), Government of Madagascar, Asity Madagascar, and The Peregrine Fund, the known population has increased from 26 to approximately 119 birds. This includes 83 birds that have been released back into the wild following Durrell's and partners' efforts, as well as 10 offspring that have now hatched in the wild. 
October was also a big month for the pochard reintroduction programme, as a further 14 birds were released into the wild to Lake Sofia. These birds spent a week in specially designed floating aviaries to allow them to become accustomed to their surroundings before being released to join the other pochards already living on the lake.  
Felix Razafindrajao, Coordinator of the Madagascar Pochard Project at Durrell commented: "The return of the Madagascar pochard to Lake Alaotra demonstrates the success of Durrell's reintroduction programme, the aim of which is to re-establish populations in its former range. It is also a source of pride for the members of the Fotsimaso team, as their hard work has produced the desired results. Although some released individuals are returning to Lake Alaotra, the species' last site of observation, the release programme will continue this year to strengthen the population at the release site." 
Dr Lesley Dickie, CEO of Durrell, added: "I'd like to pay tribute to the incredible work by our team and all the partners that have made this such a success. In a world that's full of conservation challenges, we all need stories like this to give us some hope and reaffirm the value of investing in wildlife."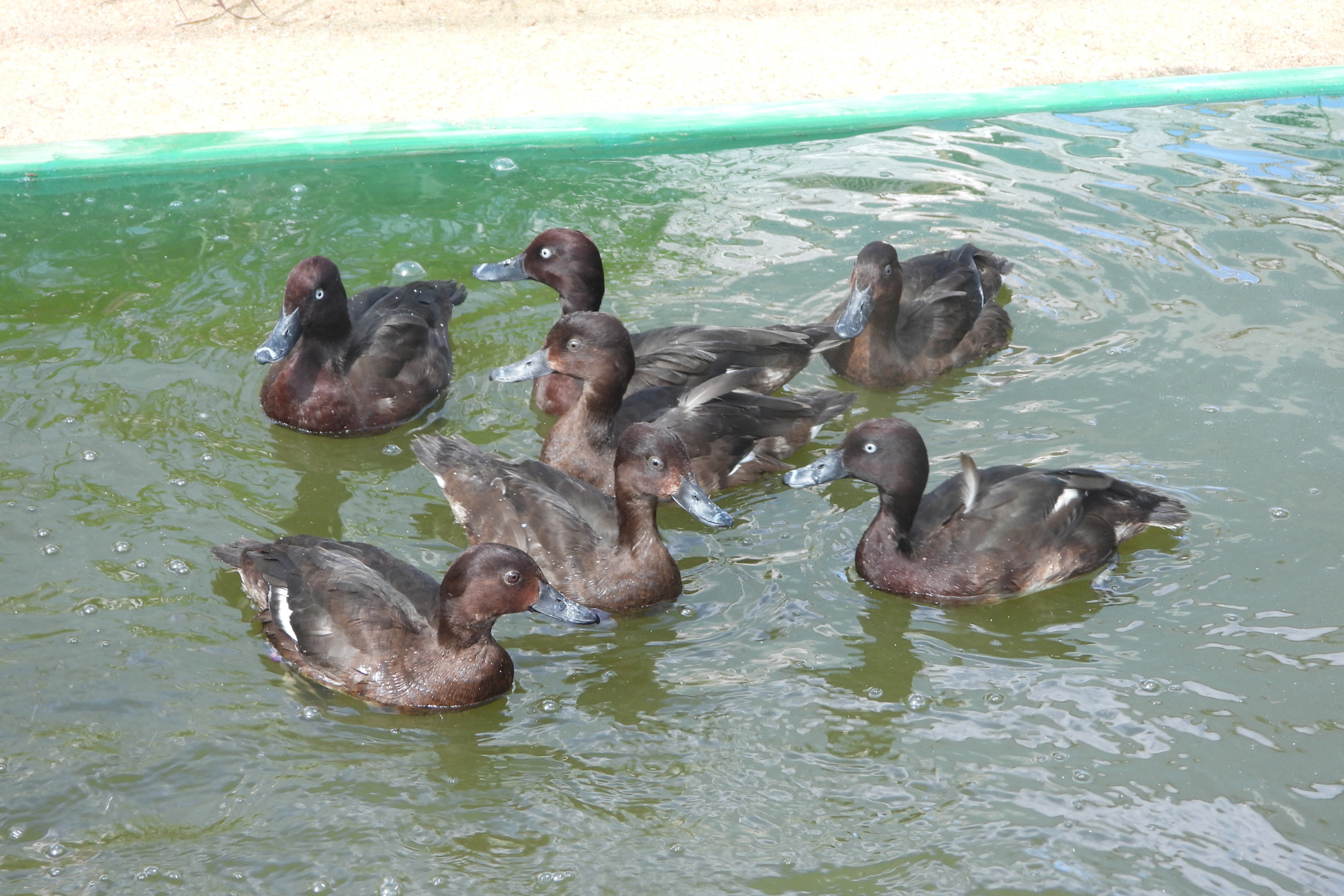 The decline of the pochard 
This rare diving duck, endemic to the inland wetlands of Madagascar, was most commonly found in shallow lakes and marshes dominated by dense vegetation. Severe degradation and loss of these wetland habitats due to human impacts led to such a severe decline in the species that it was declared 'probably extinct' in 2004, following the last sighting of a solitary male in 1991. 
In 2006, when a tiny population of 26 Madagascar pochards were rediscovered surviving at a remote volcanic lake, this kickstarted significant conservation efforts, and a successful captive breeding and reintroduction programme. This resulted in a second population being established on Lake Sofia, a site undergoing long-term community restoration.  
This includes working with 10,000 people, across 11 communities that surround Lake Sofia, to help them improve existing wetland management schemes and promoting the sustainable use of natural resources, with particular focus on improving ecological requirements that would benefit both the fisheries and a future pochard population. Key results of this work have been a major increase in agricultural productivity coupled with nearly 100% reduction in pesticide use. 
At the pochard's historical home, in Lake Alaotra, over the past 30 years Durrell has also worked very closely with the local communities to protect wetland habitats from the impacts of deforestation and degradation. This includes removing invasive plant species from the lake; direct planting of marsh habitat; and reforestation on the surrounding hillsides. Inextricably linked to our habitat work are activities designed to improve livelihoods and build resilience in the communities surrounding the lake.  
Durrell's work with the Madagascar pochard would not be possible without the generous support of Synchronicity Earth, Fota Wildlife Park, Réserve Zoologique de Calviac, Aviornis International, Biopama, Jersey Overseas Aid, and the Wildfowl & Wetlands Trust (WWT).