Tortoises arrive for this summer's sculpture trail
Tortoise sculptures have arrived in Jersey for this summer's much anticipated Tortoise Takeover sculpture trail. The fibre glass sculptures arrived as blank canvases ahead of being brought to life by a mixture of local and UK artists, as well as schools and community groups. Once complete, they will take over Jersey's wild places, coastal vistas and urban hangouts as ambassadors for all the work that Durrell undertakes with reptiles across the globe.  
The trail will be made up of 50 large tortoises that were commissioned following a 'shell-ection' event with sponsors and 65 smaller sculptures that will be designed and decorated by local schools and community groups.
The Durrell team have worked in partnership with Wild in Art, to create this sculpture, which is exclusive to Jersey and has not been used at any other trails  
The first young tortoise sculptures will go on display in shop windows from 16 June, with the large sculptures set to take over the island from the 1st July.  
The key dates for the trail include:  
16 June –31 August: Young tortoise trail goes live  
1 July-31 August: Tortoise Takeover trail goes live  
14-17 September: Tortoise Takeover farewell weekend 
21 September: Tortoise Takeover auction  

Sponsorship of the giant tortoises plays a vital role in enabling Durrell to host this mass participation art event.  All fifty giant tortoise sculptures were a 'shell-out' in less than four months, with local businesses showing overwhelming support for the trail. Ports of Jersey and Blue Islands signed up as Presenting Partners, BDO/C5 Alliance as Community Partners, Royal Bank of Canada as Education Partners and Bailiwick Express as Media Partners. Other sponsors for the trail include hospitality, finance and logistics businesses.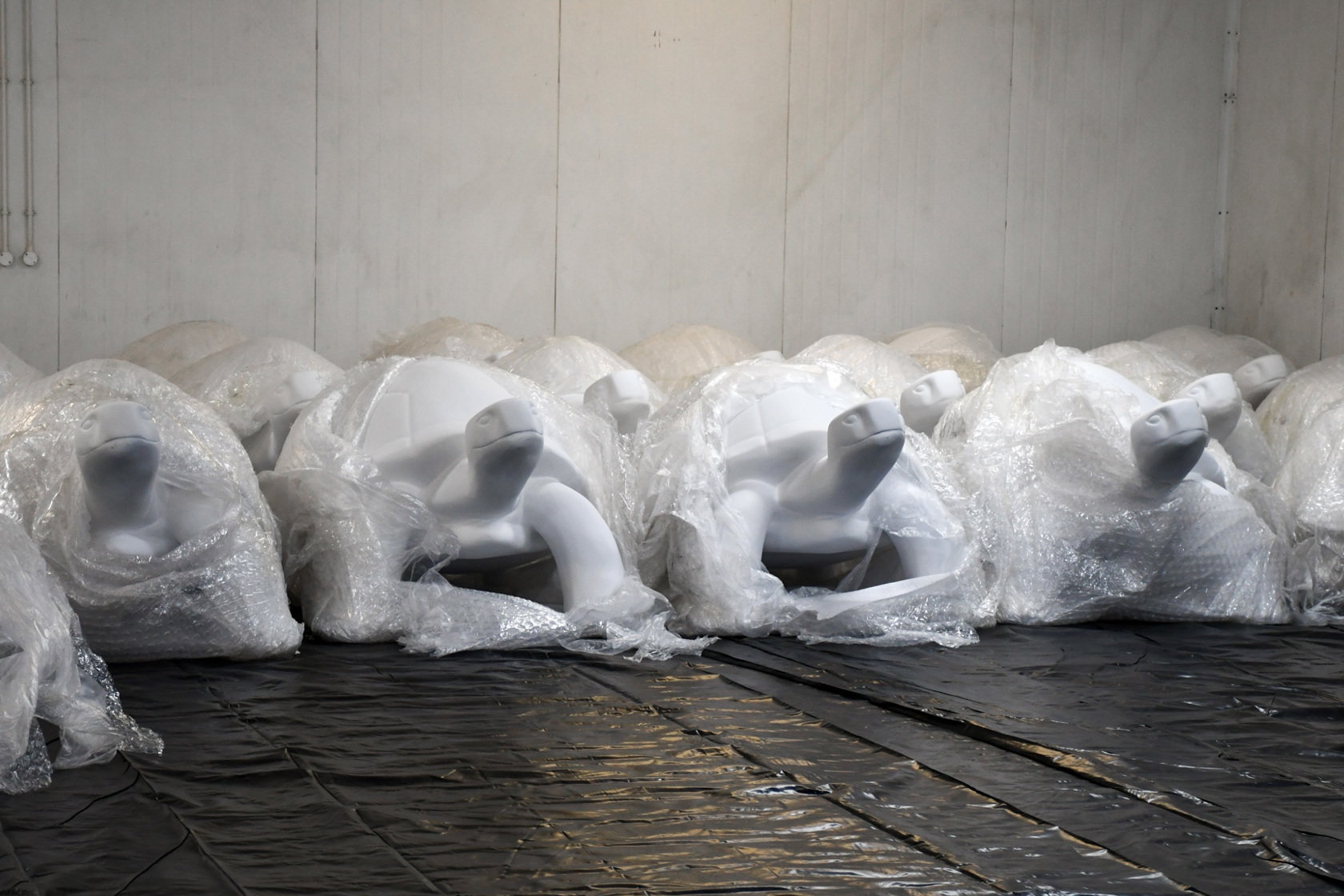 Speaking on the arrival of the tortoises Will Bertram, Artist Co-ordinator for Tortoise Takeover said: "This is an incredibly exciting and significant week for Tortoise Takeover, with the sculptures arriving on Island for the first time. They have not been used in a trail before, so we have a real exclusive here in Jersey and it makes it even more special to see them all together in the same room! We are incredibly grateful to everyone that has supported the trail so far, which includes our 50 sponsors, as well as those that have helped us behind the scenes with painting spaces and logistics. We can't wait to see the designs coming to life over the next few months, ahead of the trail launching in July."  
Painting is due to start for the sculptures at the end of February. Albert Bartlett have kindly provided both a storage and painting space for the large tortoises, with AP Event Services helping prepare the site for painting and storage. Ferryspeed are supporting the trail by providing the transportation of the sculptures, with the remaining large tortoises arriving ahead of the trail.   
After the trail, all giant sculptures will be auctioned to raise funds build a new Tropical House at Jersey Zoo, as the current amphibian and reptile house is in urgent need of updating.
All Tortoise Takeover Sponsors 
Affinity Private Wealth, All Pets Veterinary Centre, ATTOL Architecture & Interiors, Bailiwick Express, BCR Law LLP, BDO C5, Blue Islands, BNP Paribas, Butterfield Bank (Jersey) Limited, Cazenove Capital, Cherry Godfrey, Cooper & Co / Jersey Development Company, Crestbridge, Deloitte LLP, EFG in the Community, Equiom (Jersey) Ltd, Ferryspeed, Government of Jersey, Granite Products (C.I.) Limited, HSBC, Intertrust Group, Investec, Jersey Electricity, Jersey Mutual, JTC, Le Gallais Self Storage, LEGENDRE GROUP, LV Care Group, Maples Group, Moore Stephens, Mourant, Ogier, Ports of Jersey, Praxis, Prosperity 24.7, PwC, Quilter Cheviot Investment Management, Rathbones, Ravenscroft, Royal Bank of Canada, ROK, Ronez Limited, RSM CI, Rubis Channel Islands, Sanctuary Trust, Santander International, Standard Bank, Stonehage Fleming, Suntera Global, The Royal Yacht and Voisins Department Store.