Monkeying around: geladas at the zoo
At the end of 2022, a group of geladas arrived at Jersey Zoo. The impressive monkeys have now settled into their new enclosure between the orangutans and flamingos and are already a hit with visitors.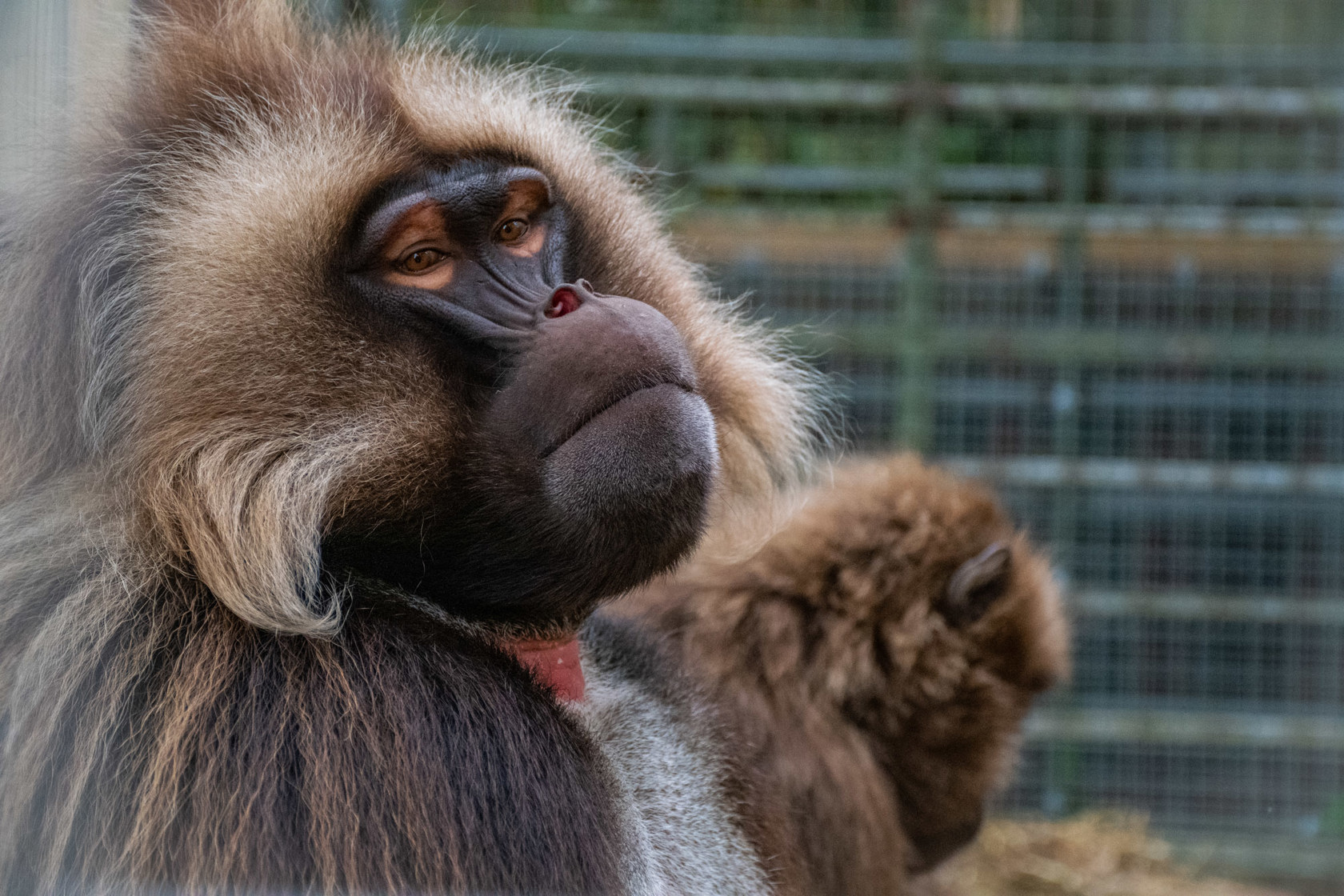 Geladas are native to Ethiopia's highlands where they live up to 4,000m above sea level. They are the last surviving species of primate to primarily eat grass, which makes up 90% of their diet. Geladas are known as 'shuffle-feeders' as they don't stand up to eat, instead they shuffle along on their bottoms to reach different patches of grass.  
The geladas have moved into the enclosure previously inhabited by the black and gold howler monkeys. It was adapted prior to their arrival, with plenty of logs and ropes to sit and swing from. The enclosure which is mostly covered in grass allows them to feed as they would in the wild. The 15-strong group is made up of a dominant male called Awaki, who is easy to spot because of his impressive mane of hair, four females and their offspring.   
Becky Braley, Senior keeper commented: "The geladas have settled in and made themselves at home very quickly since arriving from Edinburgh Zoo. We previously held geladas back in the 60s and 70s, so it is great to have them return to Jersey. They are very interesting to watch and are always up to something, so be sure to check them out next time you visit!"
The geladas are one of several new species bought to the Jersey Zoo in 2022. The zoo also welcomed two Linne's two-toed sloths, an aardvark, four Golden Guernsey goats and a northern white-cheeked gibbon. A dozen species of invertebrates and over 80 species of butterfly also arrived at the zoo last year.  
Alongside the arrivals from other zoos, lots of animals successfully bred and had babies in 2022. Some of the species born are among the rarest and most threatened animals in the world. Their births are significant and help to strengthen the captive safety net populations that prevent the extinction of these species. Births at Jersey Zoo included: 
Three black lion tamarins 
Twenty Livingstone's fruit bats 
Three mountain chicken frogs 
Six Madagascar big-headed turtles 
Seven pink pigeons 

Graeme Dick, Director of Operations at Jersey Zoo commented: "These new arrivals and births at Jersey Zoo are significant to our mission of saving species from extinction. Not only are we helping to safeguard several endangered species, but we are also educating the public on our vital conservation work, whilst helping them reconnect to nature. It has been great to see an increase in visitors as we welcomed these animals this year. Jersey Zoo is the heartbeat of Durrell, so we need visitors here as a vital part of fundraising for our work at our rewilding sites around the world."