Giant tortoises to takeover Jersey next summer
Durrell is delighted to reveal that the exciting new sculpture for next year's art trail is going to be a giant tortoise.
These charismatic creatures will be taking over the island during the summer of 2023 as ambassadors for all the work that Durrell undertakes with reptiles across the globe. 
The specially commissioned sculpture was unveiled at Government House this evening at the official launch event for Durrell's next sculpture trail – Tortoise Takeover. Potential sponsors were invited to hear more about the trail and how they could get involved.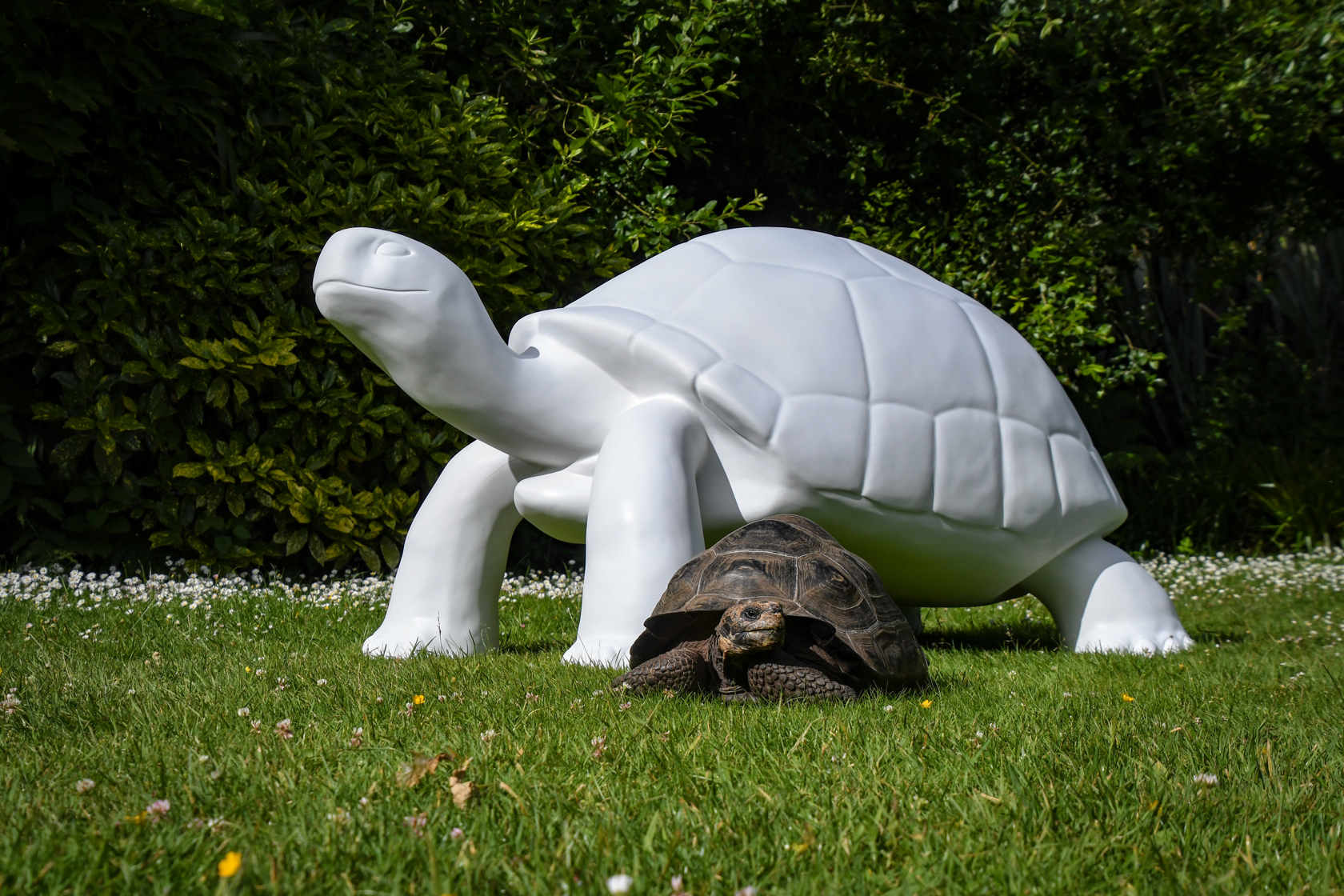 Dr Lesley Dickie, CEO of Durrell, said: 
"This time, the trail will feature incredible giant tortoises. From the highly endangered ploughshare tortoise in Madagascar to the amazing Aldabra giant tortoises that we deploy on Round Island off the north coast of Mauritius to act as 'ecological engineers', Durrell has a long history of working with tortoises. Not only are these ancient creatures important actors in their ecosystems, but they also hold key cultural values across multiple countries." 
Sadly, chelonians, which includes tortoises, turtles and terrapins, are now the most threatened vertebrate group and need help more than ever. Furthermore, the amphibian and reptile house at Jersey Zoo is home to some of the most endangered species that Durrell works with, but it is in urgent need of improved and more sustainable facilities.  
Dr Dickie continued: 
"Tortoise Takeover will mark the launch of our campaign to raise funds to build a new Tropical House, which will allow our team to continue the exemplary care they provide for these precious species into the future." 
The team that brought you Go Wild Gorillas in 2019 will once again be partnering with Wild in Art to inspire Islanders and visitors to explore Jersey and connect with nature via this vibrant sculpture trail. Next year, dozens of artist-imagined, giant tortoises will adorn Jersey's wild places, coastal lookouts, and urban hangouts. 
Charlie Langhorne, Managing Director and Co-founder of Wild in Art, commented: 
"We are very excited to continue our partnership with Durrell. Tortoise Takeover is a fantastic opportunity for businesses, the creative sector and communities to come together and create something very special for Jersey. With your support, we can create an event that will have significant impact during the summer of 2023." 
The team at Durrell were also pleased to announce the Presenting Partners for Tortoise Takeover are Blue Islands and Ports of Jersey.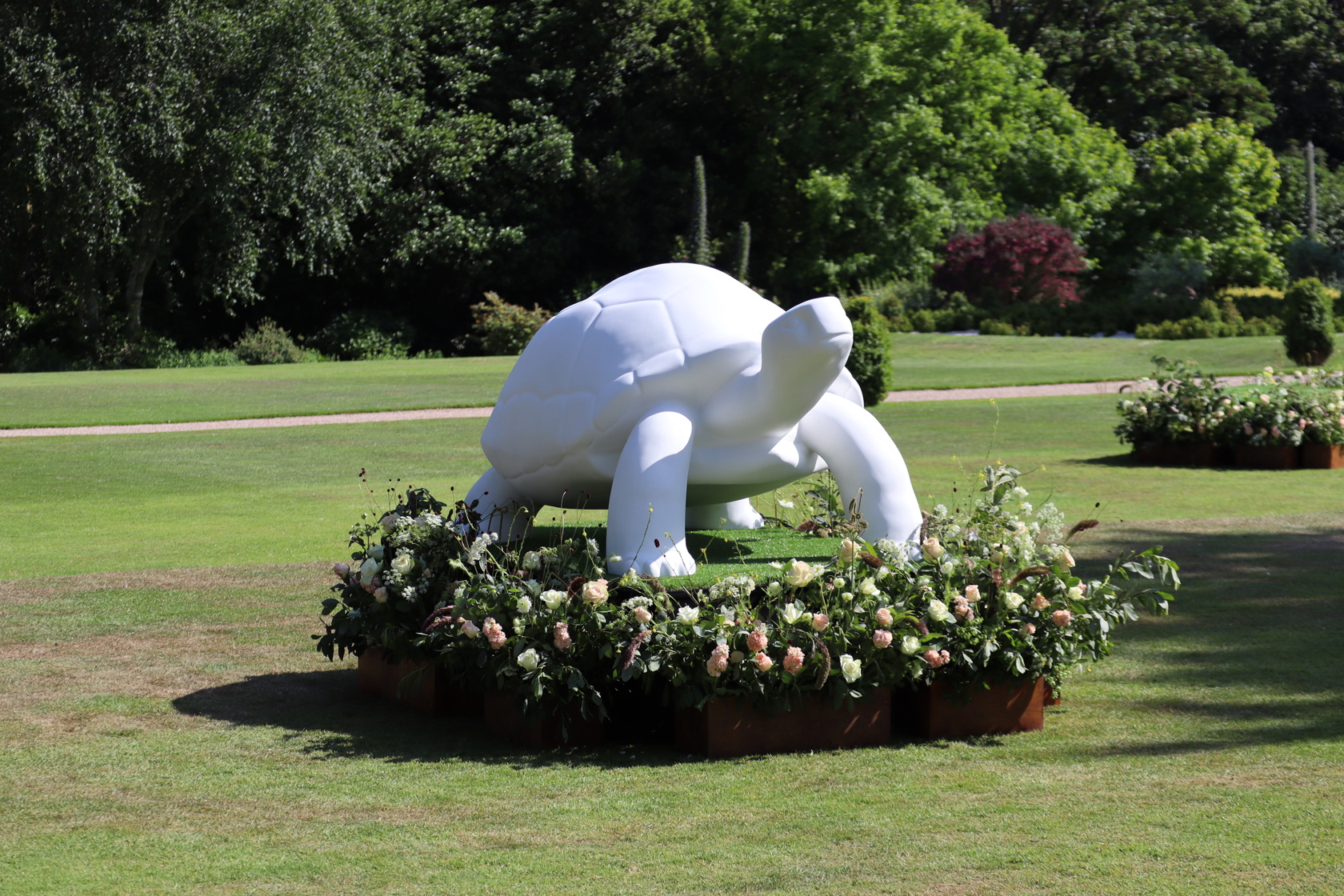 Matt Thomas, CEO of Ports of Jersey, said: 
"We exist to serve our community and take our responsibility to the environment and sustainability seriously. We believe that the best way we can help build the future that the island deserves is by taking a leading role in developing a sustainable future for our island and tackling the challenges this brings head on. Our partnership with Durrell is one part of that. Their continued passion and efforts to secure and improve biodiversity are inspirational and we are honoured to be working with them." 
Rob Veron, CEO of Blue Islands, said: 
"Durrell is synonymous with Jersey, our home, and the community for which Blue Islands provides essential connectivity; that's why we're proud to sponsor the next Durrell sculpture trail, which engages and captures the imagination of every islander and provides a wonderful, exciting story for those visiting our beautiful island.  
Our existing partnership with Durrell through its Rewild Carbon programme is our vital first step in our plan for change and has been so well received by our customers and our Blue Islands team. This nature-based programme enables us to offset our emissions for carbon neutral flying as we ensure our air services are genuinely sustainable. Go Wild Gorillas in 2019 was hugely successful in generating funds to support Jersey Zoo and we look forward to seeing the sculptures appearing throughout the island." 
In addition, the team at Durrell shared that Royal Bank of Canada (RBC) is the Education Partner for the trail, which will enable Jersey's school children to get involved. 
Businesses of all sizes can get involved in the trail by sponsoring a tortoise sculpture, providing a location or becoming a partner. To find out more and contact the team at Durrell please visit www.durrell.org/tortoise-takeover