Durrell is bringing a brand-new sculpture trail to Jersey in 2023

Durrell is delighted to announce that a new island-wide sculpture trail will be taking over Jersey for the summer of 2023.
The team that brought you Go Wild Gorillas in 2019 will once again be partnering with Wild in Art to inspire Islanders and visitors to explore Jersey and connect with nature via a vibrant sculpture trail showcasing an exciting new animal.
Today, a colourful new gorilla sculpture, created by Ben Robertson, has arrived on Broad Street in St Helier. The much-loved silverback sculpture, 40 of which adorned the island in 2019 for Go Wild Gorillas, has been decorated in a multitude of different prints, patterns and textures showcasing the beauty and diversity of the animal kingdom. Artist Ben Robertson (Bokra) was commissioned by the team at Durrell to give people a clue as to what sculpture will be used for the next trail.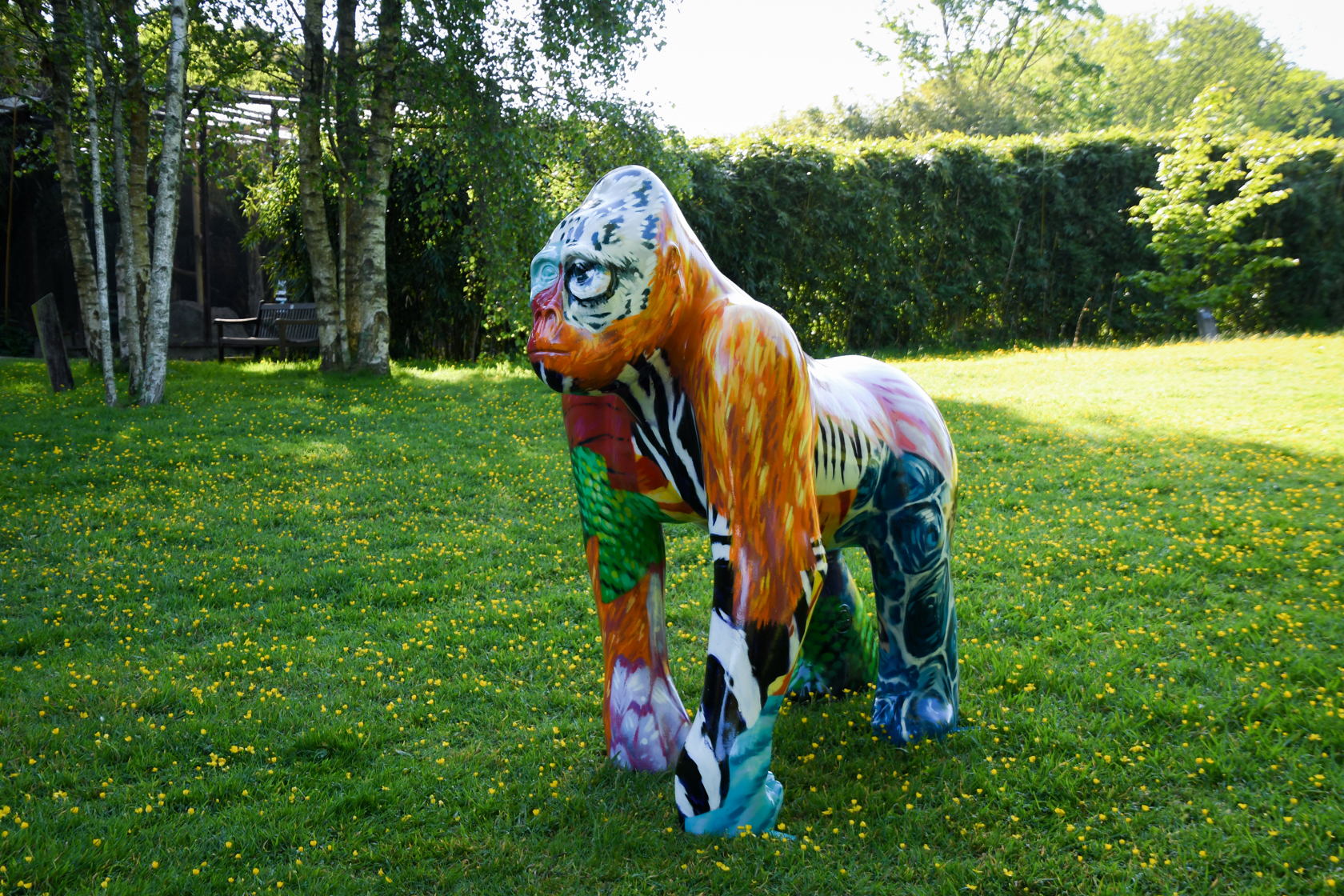 The exciting new animal sculpture, created especially for the trail in 2023, will be unveiled at an event at Government House on 14th June 2022. Sponsorship and partnership opportunities are available for companies, artists, schools, and community groups.
Commenting on the announcement, Durrell's Director of Communications and Fundraising, Alex Shears, said:
"We are absolutely thrilled to be bringing a brand-new, colourful sculpture trail to Jersey in 2023. After the success of Go Wild Gorillas in 2019, we are so excited to once again create a trail that engages the whole community and gets people of all ages outdoors exploring nature, discovering art and enjoying time together. It's also a fantastic opportunity for local businesses, artists, schools and community groups to get involved. We cannot wait to reveal the next sculpture at the launch on 14th June and hope everyone will join the conversation online and have a guess as to what the next animal could be!"
Charlie Langhorne, Managing Director of Wild in Art said:
"We are delighted to be working with the team at Durrell on this exciting second sculpture trail. Building on the excitement of Go Wild Gorillas, I have no doubt that this trail will capture the imaginations of both residents and visitors; while helping to raise much needed funds to support Durrell's conservation work. We can't wait to reveal what the sculpture is!"
Durrell is inviting business, organisations, schools and community groups to be part of this unique sculpture trail and creative learning programme that informs, enriches, entertains, and will be enjoyed by islanders and visitors to Jersey.
How to get involved
Businesses To encourage island-wide participation and maximise the impact of the project, we invite sponsors to get involved in this unique event that will drive staff engagement, inspire customers and make the whole island smile.
Sponsorship opportunities from £1,000 - £50,000
- Presenting Partner
- Education Partner SECURED
- Community Partner
- Sculpture Sponsor
- Official Supplier
- Media Partner
- Location Sponsor
To find out more and get involved, please email Alex.Shears@durrell.org
Schools and Community Groups Our Creative Learning Programme will invite all schools and community groups in Jersey to take part.
Each participating school will receive a blank sculpture accompanied by a curriculum linked learning resource pack. In addition to this, you can expect inspirational events and community engagement opportunities that will be available throughout the trail.
To find out more and get involved, please email learning@durrell.org
Artists This island-wide sculpture trail is a special opportunity for Jersey's artistic community and artists from further afield to showcase their talent and raise their profiles through the Channel Islands' largest ever, mass participation art event.
To find out more, please email Will.Bertram@durrell.org